Home page
>
Special topics
>
Digital archaeology
> Preparation
Preparation: prospect
The main activities during the prospect stage are desk research and exploratory field research.
Desk research
During the first step in the
AMZ cycle
, desk research (an exploratory and evaluative investigation) determines the potential and expected archaeological value of a research area using GIS. This combines historical and archaeological information with information about the landscape, in order to determine this value. Reports of archaeological finds and previously known monuments are key sources of information during this process.
The archaeological information system Archis is a national database that stores all kinds of data on archaeological sites dating from Prehistory to the Modern Era in the Netherlands. Archis contains information about:
the location and nature of a site (e.g. settlement or graveyard);
finds and features encountered there;
the status of a site (legal protection);
the areas where archaeological research has taken place.
Archis links all this information to digital map layers, such as the topographic map, the soil map and the land use map. In Archis users can also request the
Archaeological Monuments Map
(AMM) and the
Indicative Map of Archaeological Values
(IMAV).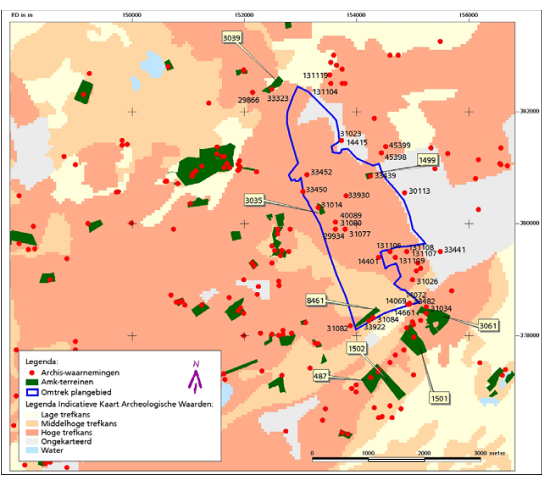 Example of an Indicative Map of Archaeological Values (IMAV) based on Archis data and the Archaeological Monument Map (AMM) of the Veldhoven region, North Brabant (source: Bilan Report 2005/84). Since 2009, archaeology students learn how to apply the methods and techniques associated with archaeological fieldwork at various excavations in a designated area.
Exploratory field research
Exploratory field research is the second step in the AMC cycle and may consist of surface mapping, drilling or test trench research. Important research questions answered during this phase include:
how big is the site;
what is the physical quality (conservation and intactness) of the site;
what is the nature of the site (e.g. settlement, sanctuary or graveyard);
what is the age of the site;
what is the experience value of the site;
what is the substantive/scientific value of a site.
The answers to these questions can be used to determine the value of a site, on the basis of which selection decisions might be taken.
Observations based on surface mapping and drilling research are made with digital tools such as GPS (Global Positioning System) or RTS (Robotic Total Station). Test trench research is documented in the same way as excavations.