Home page
> Data collection >
Introduction
Data collection
In the section From source to data the process of creating digital data on the basis of original (analogue) sources is described.
In this section you can find information about the collection of data, both of existing digitized sources and of data sets that are acquired by a number of different research methods.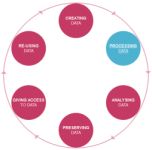 Collecting data and preparing it for analysis are part of what is often called the research data lifecycle. The encompassing set of activities is called data management or data curation. This concerns the overall organisation of the data, including aspects like storage, archiving and preservation.