Home page
>
E-resources
> The Bible
The Bible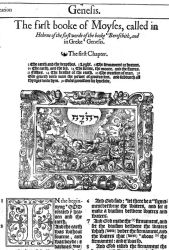 Many works of literature, visual art and music are inspired by the Bible in various ways. Nowadays, numerous digitized versions of the Bible are available in many languages and from many periods, which can support humanities scholars who want to explore whether certain passages in literary, cultural or historical sources have biblical connotations, or who want to see how a biblical quote in a source is used in its original context. More specifically, literary scholars may want to investigate how different Bible translations have influenced literary language and for linguists it might be interesting to find out whether certain forms of speech are influenced by the Bible. In the context of historical and/or classical research it can also be useful to quickly find certain Bible passages.
The University of Michigan Humanities Text Initiative offers a version of the King James Bible, which can be searched in many ways.
The website Biblia.net allows you to search for words, phrases and passages in various non-Dutch bible translations (including English, German and French).
On the website Art and the Bible a selection of visual works of art is presented that contain references to the Bible, with every painting linked to a related Bible passage. The text is from the King James Bible, also known as the Authorized Version.
The Bible in Dutch
The website
debijbel.nl
contains several Dutch Bible translations that can be read online and can be searched by using keywords. To access the site, you must first create an account. A free account provides access to the
Nieuwe Bijbelvertaling
(New Bible translation) from 2004/2007, the
NBG translation
from 1951 and the
Statenvertaling
(1977 edition). A paid account also provides access to a large number of other Bible translations, study notes, articles, descriptions of events and historical drawings, maps, videos and photos.
The website Bijbels Digitaal contains digital facsimiles of some old editions of the Bible from the 15th-17th century, including transcripts.
The website De bijbel in de Nederlandse cultuur (Bible in Dutch culture) aims to identify, describe and exhibit the influence of the Bible on Dutch culture, past and present. In that context, this website also contains the full text of the Nieuwe Bijbelvertaling (New Bible translation; 2004), which is also searchable.
De website Statenvertaling online - bijbel en kunst contains an online, searchable version of the revised edition of the 1988 Statenvertaling. This site also focuses on paintings inspired by biblical stories.