Home page
>
Data collection
> Data management
Data management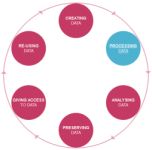 Digitising sources or collecting research data and preparing the resulting data for analysis are part of a larger spectrum of activities that is often called the research data lifecycle. Apart from the activities just mentioned, data management implies:
organising and naming the (differerent versions of the) data (storage and back-up);
documenting the data and way they are processed and annotated;
archiving the data and the accompanying documentation in an digital archive in such a way that they are preserved for reuse (by other researchers).
It is advisable to write a data management plan before the start of a research project (if this is not already required by the organisation funding the project). This is a formal document that specifies how data will be handled both during your research project and after its completion. If you prepare a data management plan before the data are collected or digitised, this will usually benefit your project: by thinking through all aspects of the data cycle beforehand, you can increase research efficiently during your project and minimize the chance that you will have to reorganise the data during its course. By addressing the aspect of preservation at an early stage, you can take into account the archive's requirements regarding the format and documentation of the data. Finally, preparing a data management plan may also make it clear if you will need any technical support during your project, which enables timely planning with your ICT support unit.
Further information

Research Data Essentials: Data life cycle
(UB VU)
This LibGuide
Research Data Essentials
from the University Library VU provides practical information and guidelines for both PhD students and researchers when working with research data, focusing on data management.
DMPonline
DMPonline is provided by the Vrije Universiteit Amsterdam as a tool to help you write a Data Management Plan.

An Introduction to Humanities Data Curation by Julia Flander and Trevor Muņoz (Digital Humanities Data Curation project).

Data Management General Guidance
General information about data management, on a website offering a Data Management Planning Tool that helps researchers to create, review, and share data management plans that meet institutional and funder requirements.
Preserving Your Digital Materials
Basic information from UMass Amherst Libraries about digital preservation of different types of research materials.