Home page
>
Devices
> Eye tracker
Eye tracker
Function
An eye tracker is a device that can be used to record eye movement for research.
Brief description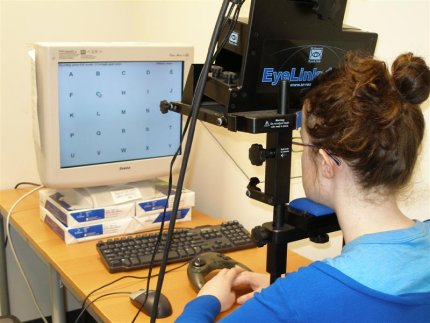 The Faculty owns an
EyeLink 1000
. This eye tracking device detects where a test subject is looking and which eye movement patterns occur when a certain task is performed. The Faculty setup consists of the EyeLink camera and infrared illuminator, as well as a host pc and a display pc. Three specific setups are possible:
Remote (without chin support)
Desktop mount with chin support (monocular/binocular)
Tower mount
The third setup provides the highest resolution and the best performance, which gives the test subject the least space to move. Each setup requires specific instructions on how to change the software on the host pc and the software used to run the experiment from the display pc.
Manual
Please read the installation guide and user guide for more details on the various options and on how to use the eye tracker, which can be found on the
SR Research Support Site
(login required, see below). This manual can be downloaded. Printed versions can be borrowed from Monique Lamers.
Availability
The Eyelink 1000 is in the
medialab
of the Faculty of Humanities and the Faculty of Social Sciences (Main building, r. 11B-09) in cubicle E/F.
The display pc requires a user name and password to log in. Everyone who wants to work with the eye tracker must follow a tutorial and register as a user on the
website of SR research
. Please contact Monique Lamers or Charlotte van Hooijdonk for the tutorial. After following the tutorial you will receive a user name and password and be added to the list of eye tracker users, allowing you to book the eye tracker and borrow the keys to the medialab.
More information
On the
website of SR Research
you can find information about the hardware and software, as well as sample programmes, and you can take part in discussions with other users. For more information, please contact Monique Lamers (mja.lamers at vu.nl) and Charlotte van Hooijdonk (cmj.van.hooijdonk at vu.nl).
Further remarks
Experiments are managed from the display pc, which is connected to the host pc, guaranteeing the time lock of the stimuli and eye movement registration. There are multiple software suites that can be used to manage an experiment:
But it is also possible to export the data and process it with other programs.
Note: there are two usb licences for Experiment Builder and Data Viewer. With the usb key, the software can be downloaded from the SR research website and can be installed on virtually every computer (please note the minimum hardware requirements). This allows users to process data and/or prepare experiments outside the eye track lab. The programmes can only be used if the usb key is in the computer.