Home page
>
Tools
Transana
Brief description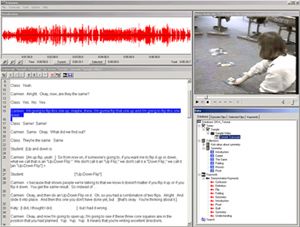 Transana can be used to transcribe digital audio and video material. It also makes a direct link between the original material and the transcript. The program can be used to transcribe material, to identifyï interesting fragments (
clips
), and to assign keywords to these clips. The clips can then be arranged in various ways and saved in sets, and the program also allows the user to map the relationship between the various keywords. This allows the user to optimize research data management, and to ëexplore the data in various ways.
Transana facilitates the sharing of analysed data with colleagues and / or fellow students, allowing joint analysis.
Manual
Transana has a good internal manual. For faculty courses that make use of Transana a manual is provided via Blackboard. If you are interested in Transana, you can take the
guided tour
on the Transana website to get an idea of its features.
Availability
The faculty has a license for the multi-user version of Transana. Students enrolled in courses that make use of Transana are given information on the program's (free) availability at the start of the course. If you are interested in Transana, please contact Marca Schasfoort (m.c.g.schasfoort at vu.nl). Students who have previously used Transana can also find the manual and the program at
G:\FGW\Data\Transana\Software Transana.
More information
See the
Transana website
.
Further remarks
Transana can also be used exclusively for making transcripts. Where necessary, the transcripts can be processed and/or analysed further with other software.