Home page
>
Data analysis
>
Structured data analysis
Rosey E. Pools networks for German-Jewish refugees in the 1930's
Lonneke Geerlings (doctorate graduate at VU University Amsterdam) employs network analysis in her research of Rosey E. Pool (1905-1971), a Dutch translator, educator and Black Poetry expert. In the 1930's, Pool helped German Jews escape from Berlin to the Netherlands and in the 1940's she got involved in the German-Jewish resistance group Van Dien in Amsterdam. As fellow of the European Holocaust Research Infrastructure (EHRI), Geerlings did research into Dutch-German contacts and exchanges. For this, she combines various historical and biographical sources in a network analysis, combined with intersectionality, to discover clusters.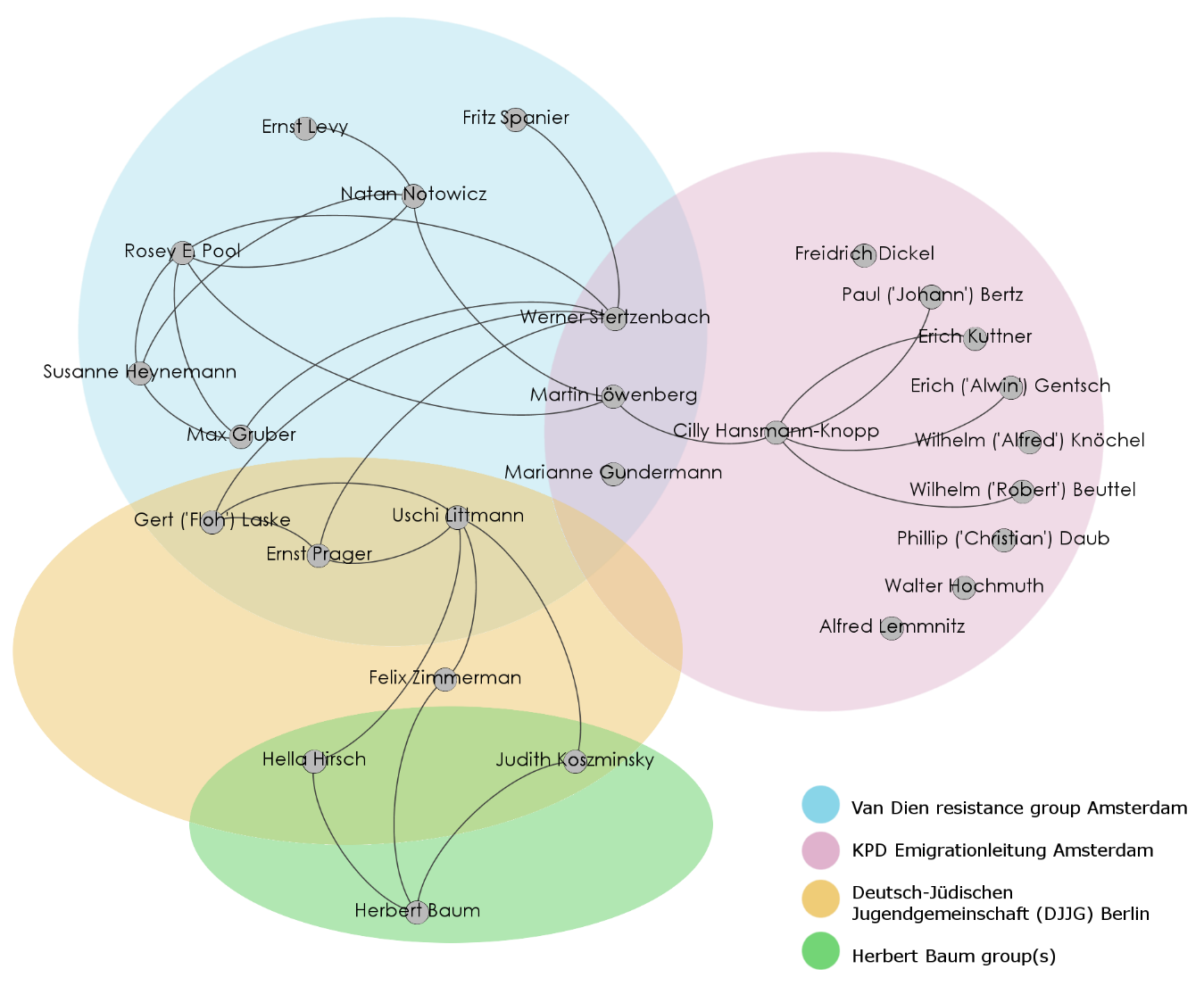 Network indicating overlaps between the Van Dien resistance group (blue); the KPD Emigrationsleitung in Amsterdam (pink); the Deutsch-Jüdischen Jugendgemeinschaft (DJJG) in Berlin (orange); and the Herbert Baum group(s) (green). Period: 1933-1943. Network visualized with Gephi and edited with Gimp.
See:
Lonneke Geerlings, 'A Visual Analysis of Rosey E. Pool's Correspondence Archives. Biographical Data, Intersectionality, and Social Network Analysis', CEUR Workshop Proceedings, vol. 1399 [Proceedings van de First Conference on Biographical Data in a Digital World 2015. Amsterdam, 9 april 2015], pp. 61-67. URL: http://ceur-ws.org/Vol-1399/paper10.pdf.